Here's Sunday's puzzle:
Take this word: Brooklynite. Rearrange these 11 letters to get the names of two world capitals. What are they?
The title says it all -- it's actually a cryptic clue to BROOKLYNITE, and "abroad" is an anagram indicator. Anagram the letters of Berlin & Tokyo (BEIKLNOORTY) and you're right back where you started, with a life-long resident of the Borough of Brooklyn.
Cryptic clue writing is the only part of the really difficult English-style cryptic puzzles I can do. In fact, I can write a clue that -- if I don't remember the answer -- I can't myself solve. That sounds absurd, but the skills needed to write a clue are very different from those needed to solve a clue. I'm still reasonably convinced that we Americans lack some genetic material in common with Alan Turing and the rest of English crossword solvers: the cyptanalysis gene.
Which is not to say I am any better at American style crossword puzzles. In fact, this all reminds me of my feeble efforts to learn foreign languages. I have a smattering of German and a dusting of French, and if I'm trying to remember a word in one language, invariably get the right word in the wrong language. I'm pretty much that lame in both cryptics and straight definition puzzles.
So let's move on to some people who are amazingly good at American style puzzles, shall we?
Here's David Plotkin, our Listmania teammate from Saturday night, getting ready for the C-Division finals (he came in second to Louis Lana):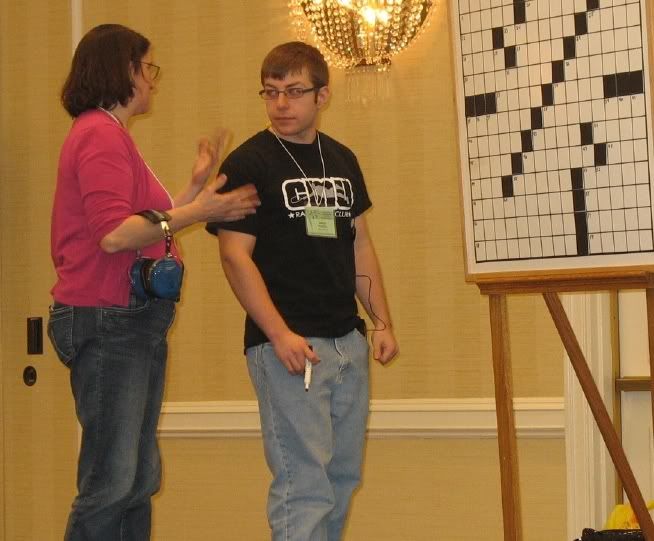 (Doesn't he look like the kind of person you'd want to play a trivia game with?)
Joon Pahk was also in the C-Division (which is where they stick all rookies) but he did so well, he competed in the B-Division finals, and won.
And last year we reported how disappointed we were that Dan Feyer didn't make it to the A-Division finals. Well, he got there this year with Howard Barkin and Anne Erdmann. Will Shortz announced that Anne's presence in the finals was only the second time in 20 years that a woman had been in the A-Division finals; the previous occasion, of course, was when Ellen Ripstein won in 2001.
What there wasn't this year was much drama. If you've seen the movie
Wordplay
, you'll know that the first year Tyler Hinman won, Al Sanders -- the likable guy from Colorado -- finished first but had left a square blank. Last year, both the other finalists finished before Tyler, but they had each made the same error in the upper left hand corner, leaving Tyler solving on his own, but taking almost the whole time working out the bottom-middle section, which required him to know, among other things, that James Doohan was on Star Trek. He finally managed it with just a few minutes to spare, and pulled off his headphones convinced he'd lost -- and won.
This year -- nothing so dramatic. The A-Division clues were brutal, and there was an ambiguity (GIMP could have been seen as LIMP, but the crossing light AGUSH didn't make much sense as A LUSH) but what really gummed up the works was 1-Across. The answer was Bambi, and the A-Division clue was "Flower's bud." How mean is that? Anne Erdmann finally wrote in I AM AN IDIOT across the top two lines of that corner; she clearly isn't, but it highlights how hard it can be to see your way out of a bind.
Dan won the A-Division with wonderful efficiency, and I think everyone was very happy for him. Ross and I had dined Saturday with Jon Delfin (one of the few -- if not only -- people on the planet who have the trifecta: Fast, good at American puzzles, and good at English cyptics). Jon has won the ACPT a record seven times, and he told us that people were rooting against him toward the end of his dominance. (He didn't win those consecutively, which is why Tyler Hinman's record of five-straight remains an impressive feat.)
I may have no interest in competing again at the ACPT, but I do enjoy watching the finals.